Winter Camping in Canada
Camping in winter is a great option for outdoor enthusiasts. This one-of-a-kind experience allows you to unplug from your daily grind. It immerses you in nature's beauty during the calm and peaceful winter months.
On this page, we'll walk you through a useful guide on winter camping to make your adventure more pleasant and safe. So, let's dive into the realm of winter camping and explore the beauty and fun that awaits you.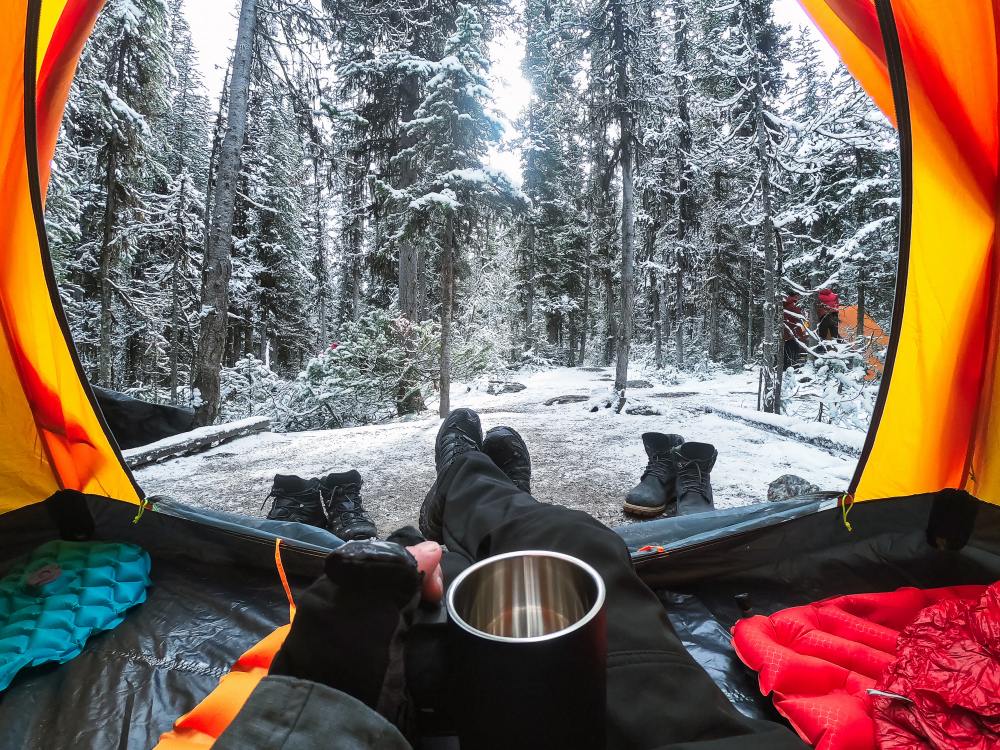 The Best Destinations for Winter Camping
Winter camping is an adventure that everyone, from novices to specialists, can enjoy. First, allow us to introduce the best destinations if you haven't had an idea of where to go winter camping in Canada.
Kouchibouguac National Park, New Brunswick
The Petit-Large campsite is ideal for first-timers and provides a network of cross-country ski trails. To stay warm, bring additional lighters and fire starters.
Fundy National Park, New Brunswick
If you're worried about the cold, consider using a yurt or an oTENTik tent. Enjoy snowshoeing, fat biking, and tobogganing here with your family.
La Mauricie National Park, Quebec
You can go cross-country skiing, snowshoeing, and winter hiking in this park. In the centre of the forest, camp using an oTENTik tent. For improved performance, use lithium batteries in devices.
Point Pelee National Park, Ontario
Camp in an oTENTik tent and get into the greatest stargazing experience in Canada. Bring along extra gloves and hand warmers.
Riding Mountain National Park, Manitoba
With an oTENTik tent, relax around the wood burner or enjoy electric heating, lights, and outlets. Make your meals outside the kitchen area instead of cooking inside the tent.
Banff National Park, Alberta
The Tunnel Mountain Village II campground offers breathtaking snow-capped Rockies and opportunities to enjoy outdoor games.
Winter Camping Gear Checklist
Camping in winter warrants certain gear like the items below:
Sleeping and Shelter
Bring sleeping bags designed for colder conditions are ideal
A compression sack and a dry bag that can keep the sleeping bag dry
Sleeping pads with a high R-value are must-haves as well as an additional foam pad
Kitchen Essentials
Meals that are high in calories but are simple to prepare
Camping stove with liquid fuel
Utensils for cooking, compostable soap, and a sheet to protect the cooking area
Dry bags and ropes for hanging food
Safety Equipment
Headlamp, first-aid pack, whistle, sunscreen, sunglasses, watch, and knife
Sleeping pad, tent, and stove repair kits
Prescribed medicines
Permit for camping, map, compass, GPS, and multi-tool
Clothes and shoes
Winter-appropriate clothes, hut boots
Toothbrush, charger, and other essentials
Snow and travel equipment
A bag, sled, trekking poles, rubbish bags, skis, a shovel, crampons, microspikes, an ice axe, an avalanche transceiver, etc
Winter camping tips
Planning to go on a winter camp? Here are a few tips to help you prepare;
Choosing the Ideal Tent
Pick a 4-season classified tent to endure wind and snow
Check for a snow fly and a roofline that permits snow to fall off
Carry extra poles, pole splints/tape, and a ground covering (tarp). These are essential for safeguarding the tent floor
Choose the Best Sleeping Bag
Utilize a mummy-style bag with a hood, drafting tube, and neck draught collar
Consider the ones with filling substances like down, Primaloft, or Microloft
For comfort, select a bag rated for temperatures lower than those you would usually encounter
Choose an expedition bag suited to -30 degrees Fahrenheit (-1.11 °C), or add a vapour barrier liner or an over bag to a three-season bag.
Selecting the winter campsite and setting the camp
Avoid ridge summits, low-lying terrain, and locations with fallen trees or avalanche threats.
Place the tent on level ground, facing south and close to a water source
Set up and anchor the tent and kitchen area, arranging the tent with doors at 90 degrees to the prevailing winds.
Make a porch hole in front of the tent, insert the foam pad, unfold the sleeping bag, and dig another pit for a fire.