Snowshoeing
In cold countries such as Canada, snowshoeing continues to gain traction. This low-impact outdoor activity is an excellent way to get that needed outdoor exercise.
The majestic mountain views will definitely ease your mind and put you in a blissful mood. Aside from loads of fun, you don't need to spend much. Learning the sport is also quite straightforward. It is perfect for both family winter vacations and outdoor adventures with friends.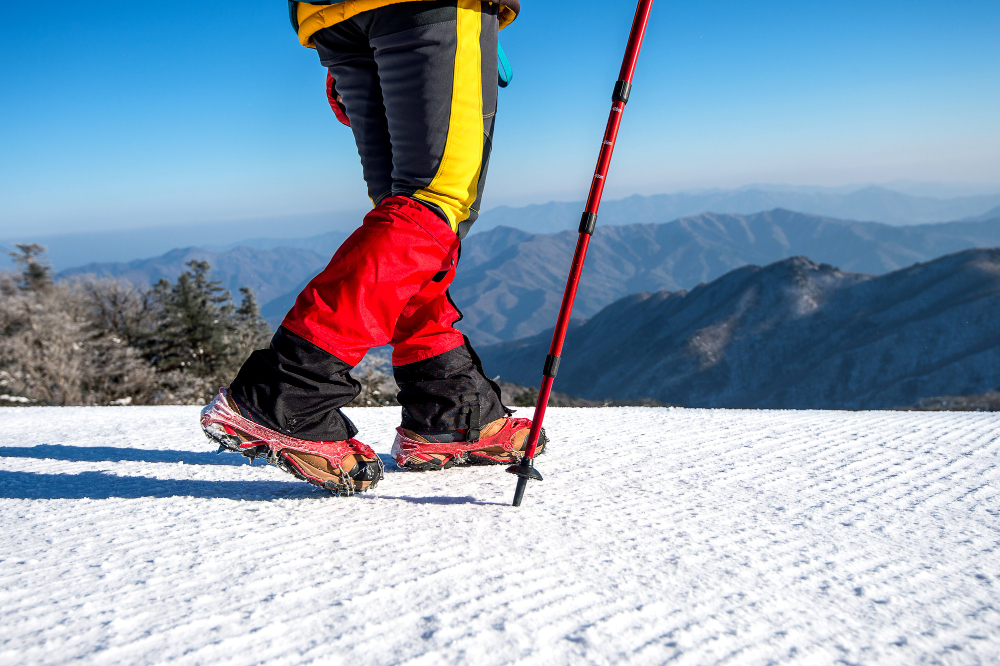 How To Get Started With Snowshoeing
Before you start striding on different terrains, you must have and know the essentials. Here are some details that you need to know:
Choosing The Right Snowshoes
Deciding on the type of snowshoes to purchase greatly depends on the type of terrain you're going to tread on. Add to that, the specific condition of the place you'd like to explore is another consideration. You must also think about the length of the trips you would like to take.
Choosing the right size of shoes is also a game changer. Remember to take into account the person's weight and the amount of gear you'll bring. Don't forget that you can customize your snowshoes' features, such as frame and deck, bindings, and crampons. You'll need this for your comfort.
Selecting The Appropriate Clothing & Gear
In extreme weather conditions, having the right clothes can save your life. With snowshoeing, the safest choice is donning three layers of clothing.
Your sweat-wicking base layer is a must-have while a mid-layer maintains the warm air trapped between layers. Equally important is an outer layer to ward off strong winds and precipitation.
You'll also need some essentials that include neck and leg warmers, gloves, and sunglasses. Remember that it is not only the cold weather you need to worry about. There's the sun to think about next. Hydration is a priority; so bring a water bottle.
Clip-on tail accessories can also help you gain stability on a powdery snow surface. In addition, you'll need to pack high-protein and high-nutrient food. Alongside these, a first aid kit can come in handy.
Packing the necessary gear helps you venture into unfamiliar areas. Bring along a GPS watch or compass, map or locator beacon, lighter, Swiss knife, insulated sleeping bags, and avalanche safety gear.
Safety Tips
Prepare for the unexpected. Weather will always be unpredictable.
Stay on stable trails and avoid stepping in restricted areas.
Avoid chasing and engaging wildlife.
Don't attempt crossing frozen lakes or rivers.
Be observant and always remember that safety is the number one priority.
Best Snowshoeing Trails
Canada offers the most exciting trails for your winter wonderland adventures. Below are a few of them.
Algonquin Park
Tucked in the province of Ontario, you can choose among two trails. The Logging Museum Trail takes you back in time. The longer Old Railway Trail gives you the chance to see some wildlife from afar.
Gatineau Park
You'll enjoy other trails with various difficulty levels here. This is suitable for family excursions since it has day shelters. With its amenities in place, these make it very safe for snowshoeing.
Whistler
This is the setting for the 2010 Vancouver Olympics. With this said, you can already construe that it is one of the best hiking spots in the area. You can enjoy the wilderness and the fun of being one with nature like looking at the frozen Rainbow Falls.
Banff
Home to the Emerald Lake and March Loop Trails, admire the stunning mountain views and wildlife inhabiting Banff. The best time to visit is between late December to April. So check your calendar!
Snowshoe Tours
Want to have the best Canadian snowshoeing experience? You can check out some guided snowshoe tours. Ranging from $45 to $436 per participant, you can choose from various scenic trails. Spectacular activities include helicopter rides, stargazing, zip lining, and snowmobile rides. Age restriction also applies to each tour, so make sure to check. Indeed, it is a winter experience like no other!